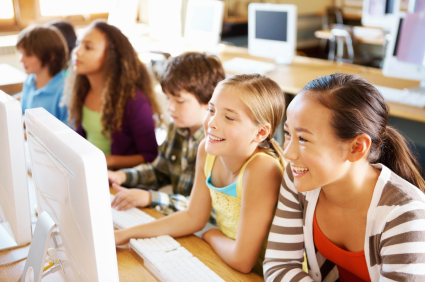 Center for Education Integrating Science, Mathematics and Computing (CEISMC)
Through the Center for Education Integrating Science, Mathematics and Computing (CEISMC), unites Georgia Tech with K-12 schools, educational groups, civic, community and opinion leaders, businesses, and others committed to enhancing K-12 science, technology, engineering and mathematics (STEM) education in Georgia. By disseminating best practices based on scholarly works, CEISMC focuses on stimulating curiosity and interest in STEM among students and teachers alike.
CEISMC advocates for and supports systemic changes that lead to improved K-12 performance in STEM. Recognizing the importance of diversity, equity, and inclusiveness, CEISMC places a special emphasis on reaching and serving those under-represented in STEM education.
Federal Work-Study - Utilizing Georgia Tech Federal Work-Study students, the CEISMC Academic Mentoring Program provides assistance for "at risk" students requiring remedial help and "high achieving" students who can benefit from mathematical explorations beyond their classroom experiences. Mentors focus on improving numeracy skills to ensure success in their current mathematics courses. Mentors also assist students by preparing them for standardized tests taken in the spring. Mentors work on a one-on-one basis, small group basis, and also provide assistance inside the classroom. All mentors receive training on building relationships with students, teaching skills, learning styles, and cultural considerations.
The Gwinnett Pathways to College – GoSTEM - The Pathways into College is a partnership between CEISMC and The Gwinnett County Public School System. The Pathways in Gwinnett Program targets Hispanic students and provides exposure to STEM disciplines, enhances their educational experience and prepares students and their families to make the decision to pursue a college degree. Pathways in Gwinnett is also a research project that will determine which types of initiatives and programs are most effective in increasing the percent of Hispanic students who pursue careers in STEM.
Annual Latino College and STEM Fair – GoSTEM - Part of the Atlanta Science Fair, this event is offered by Georgia Tech's CEISMC-GoSTEM Program in partnership with the University of Georgia's LISELL-B program. Attendees include K-12 Hispanic/Latino students and their families from the Metro Atlanta area and beyond, as well as representatives from institutions of higher education and organizations that serve the Hispanic/Latino community. Activities include:
Interesting bilingual workshops and fun hands-on activities for the entire family;
A College Fair, where attendees interact with representatives from several colleges and universities and learn about their institutions;
A Majors Fair, where attendees learn about different college majors and programs of study;
A Panel Discussion with college students, parents, professors and other professionals; and
Access to community resources.
Bridge to Tech - CEISMC, in partnership with The Drew Charter School, has developed a summer transition program to support advanced student learning, based on the belief that to prepare for post-secondary education, students must have access to resources and skills not only to survive but also to thrive academically in high school. With a focus of learning organizational and study strategies needed to be successful, the Drew Summer Transition Program assists students to transition smoothly from middle to high school
CEISMC @ GA Tech Savannah - From educational partnerships and research to fun programs for students, CEISMC advocates and participates in systemic changes that lead to improved appreciation and performance in STEM for K-12 students, especially those underrepresented in the disciplines of science, technology, engineering, and mathematics. With a presence at the Georgia Tech – Savannah campus, CEISMC brings scholarly expertise to the schools and people of southeast Georgia.
CEISMC Summer P.E.A.K.S. - (Programs for Enrichment and Accelerated Knowledge in STEM) are hands-on, interactive learning experiences. Summer P.E.A.K.S. give participants the chance to enhance learning during the summer in experiential activities on campus at Georgia Tech. P.E.A.K.S. cover many different Science, Technology, Engineering, and Mathematics (STEM) concepts.
GE Girls @ GA Tech - The Center for Education Integrating Science, Mathematics and Computing (CEISMC) at Georgia Tech in partnership with General Electric (GE) hosts a week-long summer program for middle school girls in June. This fun-filled program introduces girls to exciting opportunities in STEM for college and beyond.
Georgia FIRST Lego League - Introduces young people ages 9 to 14 to the fun and excitement of science and technology while building self-confidence, knowledge and life skills. While the program involves LEGO robotics, FLL goes far beyond robotics, with teams examining real-life problems and developing innovative solutions. Through the robot game and project, the following FLL core values are emphasized:
We are a team;
We do the work to find solutions with guidance from our coaches and mentors;
We know our coaches and mentors don't have all the answers; we learn together;
We honor the spirit of friendly competition;
What we discover is more important than what we win;
We share our experiences with others;
We display Gracious Professionalism® and Coopertition® in everything we do; and
We have FUN!
Georgia Tech's K-12 InVenture Challenge - The InVenture Challenge is a competition for Georgia K-12 students to recognize achievement and encourage interest in innovation, design, and engineering. The goal is to challenge students to identify a real-world problem and test a solution.
Georgia Science Olympiad - The Science Olympiad is a nationally recognized program for enhancing science education and interest in science. It is a science competition for teams of up to 15 students competing in 23 different age-related events over the course of a day. The activities emphasize doing and applying science. Events are held at both the main campus in Atlanta and in Savannah.
GIFT – Georgia Intern Fellowships for Teachers is a Georgia Tech-funded program that provides paid summer internships in industry workplaces and university laboratories for Georgia K-12 science, technology, engineering and mathematics teachers.
GoSTEM - GoSTEM is a collaboration between Georgia Tech and the Gwinnett County Public School District to develop strategies for enhancing the educational experience of Latino students in Georgia. GoSTEM also strengthens the pipeline of these students into post-secondary STEM education.
Program Pursuing Urban Sustainability at Home (PUSH) – GoSTEM - A two-week STEM inspired summer camp, PUSH focuses on exposing high school students to issues surrounding the need for urban sustainability and how this environmental and social concern impacts their local communities. Program PUSH has a three-tier focus: Sustainability, Leadership & Technology. Students engage in leadership development and are introduced to new ways to use technology to make a positive impact on their surrounding communities. PUSH includes exposure to STEM professionals currently working in the field; Hands on STEM experiments that aid in connecting issues of sustainability to the everyday experience of the program participants; and exposure field trips that work to demonstrate how individuals can be sustainable in their every day lives.
Horizons at GA Tech - The mission of Horizons@GT is to provide an academic, cultural, and recreational program designed to encourage a diverse group of students from low-income families to realize their full potential. The Horizons@GT Program partners with two local schools, Centennial Place and Drew Charter. Only students who qualify for free or reduced priced meals and who are pre-identified by Centennial Place Elementary and Drew Charter School are accepted into the Horizons@GT Program.
K.I.D.S. Club - K.I.D.S. Club is a program designed to enhance and encourage curiosity and enthusiasm for science, mathematics, engineering and technology. Students in grades 2nd-5th are eligible to join our student-centered, hands-on discovery sessions on Saturday mornings from 9 am to 12 noon. During each meeting, students rotate and experience three different hour long activities. K.I.D.S. Club also provides a special program during the Atlanta Science Fair.
Latino STEM Education Day - GoSTEM – Hosted at Meadowcreek High School (Gwinnett County School District), students and families attend a bilingual (Spanish and English) workshop facilitated by Georgia State University, on college access and financial aid.
The R.E.A.L. Program - The R.E.A.L. (Research, Experiment, Analyze, Learn) program is composed of high school student researchers, and has served as an initiative of the GIFT Summer Program since 2004. The students from under represented populations in STEM spend a 5-week period experiencing and conducting research with their respective GIFT teacher in laboratories on Georgia Tech's campus. Over 300 high school students have participated in R.E.A.L., with 75% of them pursuing STEM careers in postsecondary education. This program is made possible by the generous support of the Siemens Foundation, The UPS Foundation, Porsche Cars of North America and GIFT.
SIEMENS Competition in Science, Mathematics and Technology - The Siemens Competition, administered by Discovery Education and hosted by CEISMC for Siemens, Inc. Region Six (Georgia, Florida, Kentucky, North Carolina, South Carolina, Tennessee, and Puerto Rico) awards a $1000 scholarship to each regional finalist, in addition to a $3,000 prize to an individual winner and a $6,000 prize to a team winner at each regional competition. Winners of the regional events advance to the National Finals at The George Washington University in Washington, D.C, where $500,000 in scholarships are awarded, including two top prizes of $100,000 each.
Georgia Gravity Games - The Georgia Gravity Games is a gravity-only car race competition sponsored by Google, Georgia Tech and the City of Douglasville. The Georgia Gravity Games are an educational, hands-on activity designed to get young people excited about STEM subjects.
ASF Family Fun STEM Day - Part of the Atlanta Science Festival, students and parents are invited to participate in a half day of fun hands-on STEM activities. Activities have included building water rockets, dissecting squid, making glow in the dark slime, Lego car racing, and making mobile apps and games.
Code.org Professional Learning Partner - CEISMC partners wit Code.org to train teachers throughout Georgia to teach computer science at all grade levels K-12. Our goal is to broaden participation in computing and insure that every student in Georgia has the opportunity to learn CS if they desire.
Integrating Computer Science (iCS) at Centennial Academy - This is a collaborative project between the International Society for Technology in Education (ISTE), Georgia Institute of technology, and Georgia State University. Centennial Academy school teachers in grades 3-5 are working to integrate computer science into an existing project-based approach using engineering strategies similar to UX (user-experience) design processes used in industry to create original websites, apps, games, media, animations, virtual worlds, and computer programs.
21st Century Literacy in the Making at Drew Charter - The 21st Century Literacy in the Making program seeks to address three major challenges related to early literacy and applied learning: Summer Learning Loss; Rigor and Creativity in PBL; and Lack of Opportunity to Develop 21st Century New Literacy Skills. The program addresses these challenges through an innovative Literacy in the Making Summer Program, K-8 Makerspace Initiatives, and enhanced STEAM instruction that integrates new literacies.
Drew Charter Mobile Media Academy - The Mobile Media Academy is a summer enrichment program focused on developing skills necessary to create mobile apps, games, and other types of interactive mobile media. Students in grades 6-12 will be exposed to careers in the field through interactions with Georgia Tech faculty, students, local businesses, and participation in annual local and national mobile media-related competitions (examples include the Verizon Innovative App Challenge and the Health IT Student Innovation Awards).
Full STEAM Ahead! - Held in Savannah at local schools this program enriches and encourages STEAM (Science, Technology, Engineering, Art and Mathematics) learning for your child. Geared toward rising kindergartners to middle school students, STEAM supports learning high-level science concepts in unique ways. By combining creativity with hands-on experiences and explorations, children learn more fully and deeply.
Teacher Education Partnerships - Through CEISMC, Georgia Tech has designed and implemented teacher professional learning initiatives for over 20 years. The CEISMC Teacher Education Partnerships (TEP) group collaborates with Georgia Tech faculty and units, the Georgia Department of Education (GaDOE), school systems, individual schools, including charter schools, and others to provide intensive and content-focused professional learning. The CEISMC TEP group uses research-based professional learning strategies that have positive and lasting impacts on classroom practice. CEISMC teacher professional learning is aligned with state and national academic content standards.