Friday, May 10 • 9:00 am - 10:00 am
The Hero's Journey & The Unknown

Joseph Campbell's motif for The Hero's Journey has been repeated
across stories and cultures, becoming a common and shared
experience. For students who are from certain groups, entry into a
DIY maker space or STEM class may feel like leaving a familiar
world and moving into the unknown. Their journey is similar to the
"hero's journey" where the protagonist of the story embarks on
an adventure, meets and overcomes a daunting challenge, and
returns transformed, empowered, and enlightened. This talk
looks at The Hero's Journey as an opportunity to help teachers
and students tackle challenges to learning new or complex concepts.
Nettrice Gaskins, Ph.D.
Nettrice Gaskins majored in Visual Art at duPont Manual High School in Louisville, KY. She earned a BFA in Computer Graphics with Honors from Pratt Institute in 1992 and a MFA in Art and Technology from the School of the Art Institute of Chicago in 1994. She received a doctorate in Digital Media from Georgia Tech in 2014. Her model for 'techno-vernacular creativity is an area of practive that investigates the characteristics of this production and its application in STEAM. Her essays are included in several publications such as Future Texts: Subversive Performance and Feminist Bodies and Afrofuturism 2.0: The Rise of Astro-Blackness. Currently, Gaskins is the Program Manager of The Fab Foundation. In the past Gaskins was director of the Multimedia Center at Boston Neighborhood Network or BNN.
---
Friday, May 10 • 1:00 pm - 3:00 pm
We Want to Do More than Survive:
Abolitionist Teaching
Dr. Love's talk will discuss the struggles and the possibilities of
committing ourselves to an abolitionist goal of educational
freedom as opposed to reform, and moving beyond what she calls
the educational survival complex. Abolitionist Teaching is built on
the creativity, imagination, boldness, ingenuity, and rebellious spirit
and methods of abolitionists to demand and fight for an
educational system where all students are thriving, not simply
surviving.
All conference participants will receive a copy of Dr. Love's book
"We Want to Do More than Survive," and her talk will be followed
by a book signing.
Bettina Love, Ph.D.
Dr. Bettina L. Love is an award-winning author and Associate Professor of Educational Theory & Practice at the University of Georgia. She is one of the field's most esteemed educational researchers in the areas of Hip Hop education and urban education. Her work is also concerned with how teachers and schools working with parents and communities can build communal, civically engaged schools rooted in intersectional social justice for the goal of equitable classrooms.

For her work in the field, in 2016, Dr. Love was named the Nasir Jones Hiphop Fellow at the Hutchins Center for African and African American Research at Harvard University. She is also the creator of the Hip Hop civics curriculum GET FREE. In April of 2017, Dr. Love participated in a one-on-one public lecture with bell hooks focused on the liberatory education practices of Black and Brown children. In 2018, Georgia's House of Representatives presented Dr. Love with a resolution for her impact on the field of education.

Dr. Love is a sought-after public speaker on a range of topics, including: antiblackness in schools, Hip Hop education, Black girlhood, queer youth, Hip Hop feminism, art-based education to foster youth civic engagement, and issues of diversity and inclusion. In 2014, she was invited to the White House Research Conference on Girls to discuss her work focused on the lives of Black girls. In addition, she is the inaugural recipient of the Michael F. Adams award (2014) from the University of Georgia. She has also provided commentary for various news outlets including NPR, The Guardian, and the Atlanta Journal Constitution.

She is the author of the books We Want To Do More Than Survive: Abolitionist Teaching and the Pursuit of Educational Freedom and Hip Hop's Li'l Sistas Speak: Negotiating Hip Hop Identities and Politics in the New South. Her work has appeared in numerous books and journals, including the English Journal, Urban Education, The Urban Review, and Journal of LGBT Youth. In 2017, Dr. Love edited a special issue of the Journal of Lesbian Studies focused on the identities, gender performances, and pedagogical practices of Black and Brown lesbian educators.
---
Saturday, May 11 • 9:00 am - 10:00 am
#MakingLiberation: Eight Ways to Integrate "Technologies of the Heart" into STEAM Education Using the Learn 2 Teach, Teach 2 Learn Model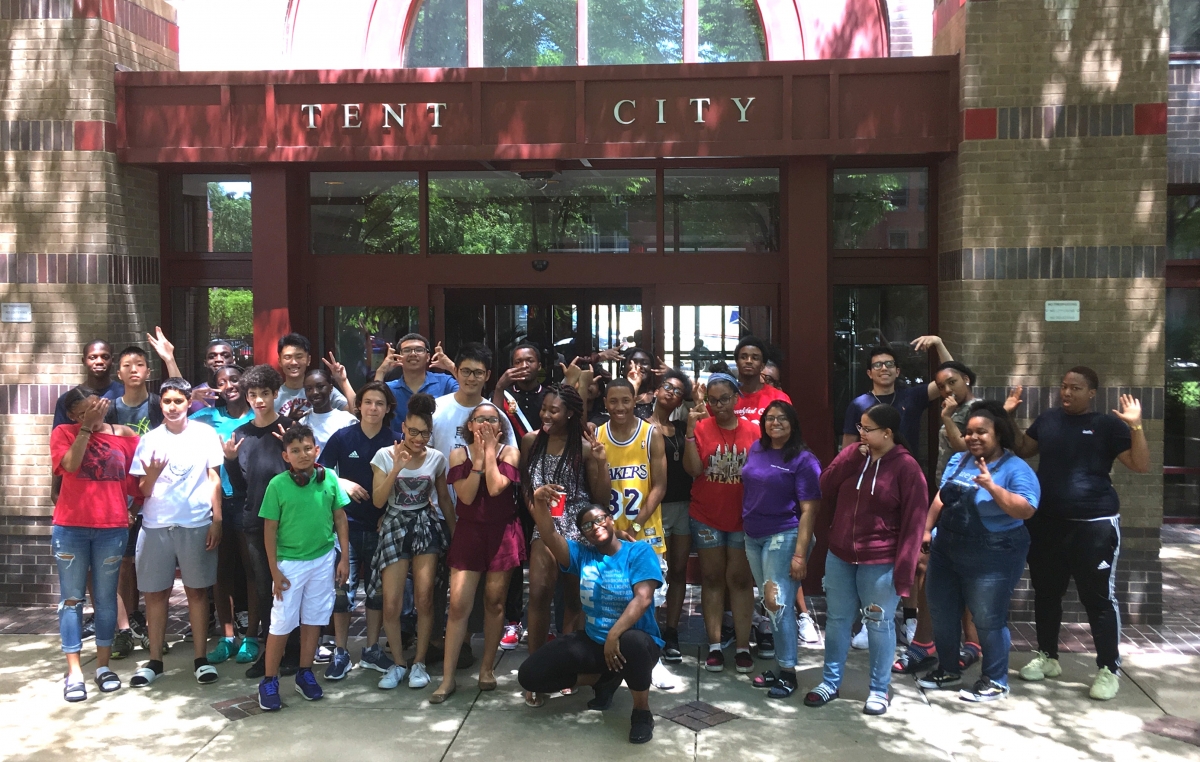 How can you imagine next steps for #MakingLiberation
in your STEAM program and community? This session of
storytelling and interactive conversation with the teenage
youth teachers of the 'Learn 2 Teach, Teach 2 Learn (L2TT2L)
program explores our 17-year pursuit of what is needed -
beyond skill mastery - to cultivate a genuine interest in pursuing
STEAM. The youth teacher's stories illustrate 8 practical ways
we incorporate 'technologies of the heart,' those learning
strategies that bring out the best in us, in each other and our communities.

The youth teachers' stories will highlight 17 years of participatory design developed by a collaboration
of caring educators and youth. L2TT2L's 36 teen youth teachers learn 6 different engineering and
technology modules (computer programming, physical programming, digital design and fabrication,
electronics, alternative energy and mechanical engineering), work in teams to create projects that solve
community issues they think important, and then travel all over Boston to teach what they have learned
in the free 3-week summer STEAM Camps they offer to 700+ elementary and middle school youth at 25
community organizations.
Presented by: Junie Arcene, Lola Fearon, and Susan Klimczak