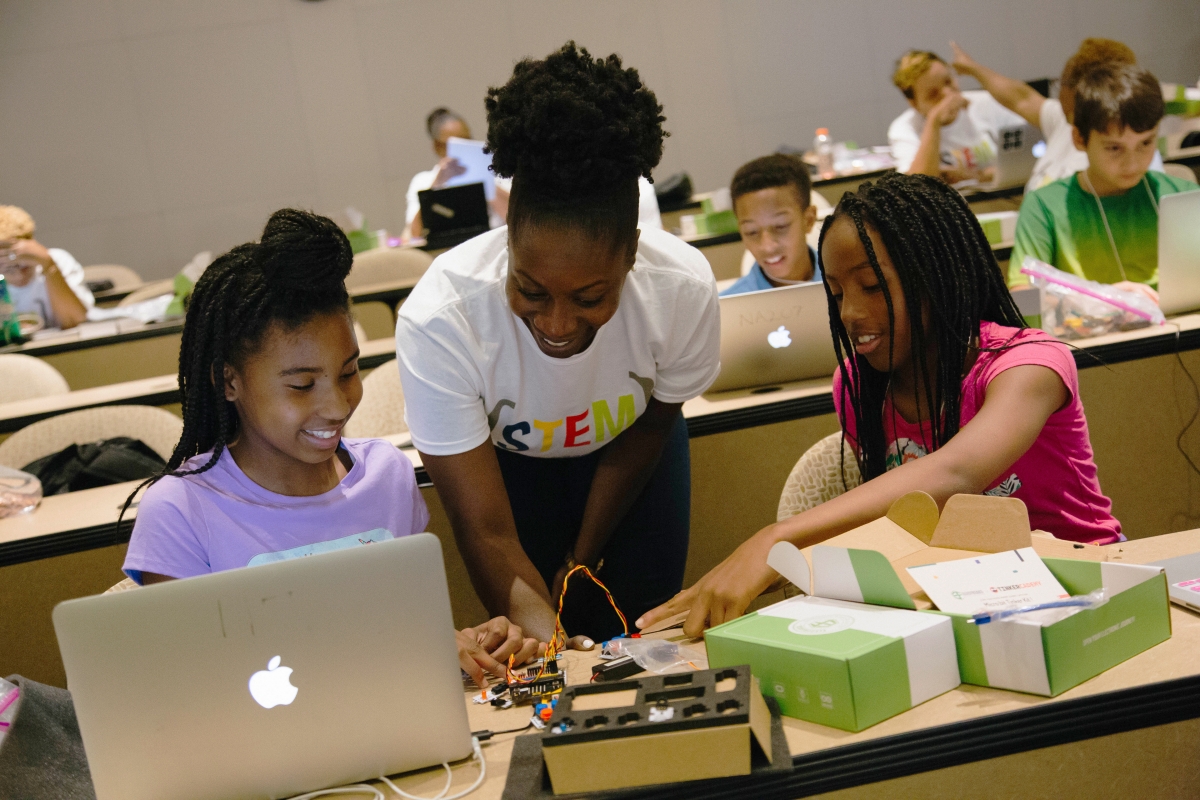 The STEM Teacher Leadership Program (STLP) at Georgia Tech is an innovative software engineering and computing training program that brings advanced teaching techniques to middle and high school teachers in Metro Atlanta. STLP seeks to close gaps in computer science education by providing superior teacher professional development and engaging middle and high school students in high-quality curricular opportunities in computational thinking and software engineering.
News: The 2019-2020 Honeywell STEM Challenge winners have been announced! These finalists competed at the January 29th STEM Challenge Showcase at GA Tech.
About the STEM Teacher Leadership Program at Georgia Tech
PROGRAM GOALS
Create a professional network of Metro Atlanta middle and high school teachers to serve as instructional leaders in computer science.
Strengthen computation aspects of STEM curricula and pedagogy in Metro Atlanta public schools.
Enhance middle and high school student interest and achievement in STEM subjects and software engineering.
PROGRAM COMPONENTS
A four-week summer immersion at Georgia Tech for selected teachers on in-depth computer science (CS) principles and how to incoporate CS into core content areas. Participating teachers create revised courses of study and new unit plans using knowledge gained during the summer training.
The Honeywell STEM Challenge, a software engineering competition open to students in courses taught by STEM Teacher Leadership Program teachers (current or alumni). As part of the Challenge, teachers - with the assistance of a Honeywell mentor - guide their students through the creation of software-based solutions to real world problems.
The STEM Teacher Leadership Program Symposium, a culminating event where STEM Teacher Leadership Program teachers share lessons learned throughout the year.
SELECTION CRITERIA
Selected teachers will have strong principal recommendations, a demonstrated ability to implement innovative instructional practices, and possess the skills and willingness to serve as STEM ambassadors. Schools that are pursuing STEM certification with support from principals and district level leaders will be eligible for selection. The selection process begins in the Spring of each year.
CONTACT US
If you have any questions, please feel contact our team at stlp@ceismc.gatech.edu.