Science Teachers @ Tech Day 2019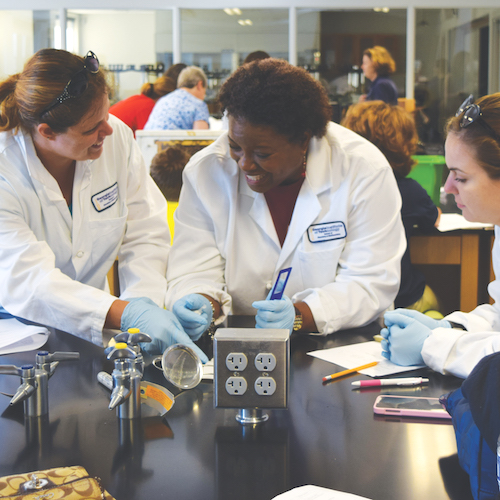 Are you a high school Biology, Chemistry, Physics or Earth/Environmental Science teacher who is looking for a way to make your subject matter relevant and come alive? Then Science Teachers @ Tech Day is for you! This event at Georgia Tech on March 12, 2019 involves cutting edge lab tours, collaboration with your peers to complete an authentic college-level freshman lab activity, conversations with Georgia Tech students about how to prepare your students for college, and enjoying the fun and excitement of science!
Each teacher must actively teach one or more of these subject areas:
• Biology
• Chemistry
• Earth / Environmental Science
• Physics
Please read the following points before completing your registration:
The event will take place on March 12, 2019 from 9 am - 3:30 pm at Georgia Tech.
You may cancel your registration with a full refund as long as notice is received by February 8th, 2019. To cancel your registration, please email us at scienceteachersday@gatech.edu.
All participants who register before February 8th will receive Science Teachers @ Tech Day swag and goodies. As these are custom-ordered items, we cannot guarantee these items for registrations made after February 8th.
The registration cost is $100, payable by credit card only, and includes lunch, all activities for the day, campus parking, and (if registered before Feb. 8th) all give-away items.
All participants will be required to complete a photo release waiver.
Further information such as parking details and the final event schedule will be sent by email no later than two weeks prior to the event.
Register for Science Teachers @ Tech Day at https://bit.ly/2A04jEj.
For questions, or for more information, please email scienceteachersday@gatech.edu.