Project Change: STEM Teachers @ Tech Day 2020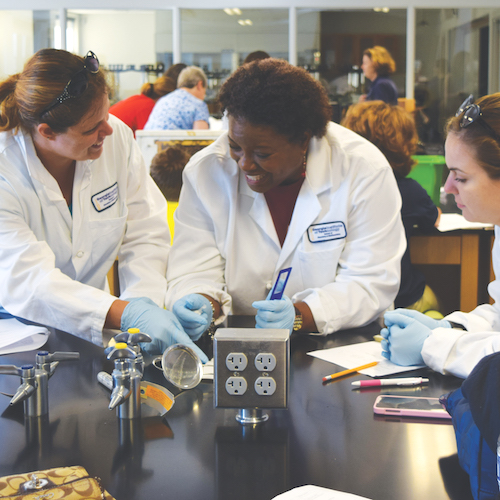 Are you looking for a way to move beyond the standards and integrate STEM connections into your curriculum? Science, technology, engineering or math (STEM) teachers have the challenge of engaging and preparing their students for post secondary education or the workforce, thus providing students with opportunities to experience real-world applications of the curriculum is more important than ever. Do you thirst for more knowledge to better connect and communicate to your class of future scientists, technologists, engineers, and mathematics?
This one day, on-campus experience is designed to provide High School and Middle School teachers with the opportunity to experience the cutting edge resources and research here at the Georgia Institute of Technology with the goal of increasing their understanding of current, real-world applications of their content. All participating teachers will be placed in small groups based on their respective content areas and engage in:
Tours of cutting-edge research labs;
Hands-on activities designed for replication in STEM classrooms;
And small group discussions with current Georgia Tech students focused on pre-requisite skills and concepts they learned in high school.
Our activities for the day will focus on the following specialty areas:
Physical and Mechanical

Life and Earth

Computing and Technology

STEM with Art Integration
Date: March 10, 2020
Time: 9:00 am to 3:30 pm
If you are interested in this event, click here to pre-register.
Pre-registration is an opportunity to indicate that you are interested in attending and select which special track most appeals to you. By pre-registering, you will be one of the first to receive a notification when registration opens.